Hello from my blog's new home base - the center of the sun!!
(Seriously, this year we didn't even have a Spring in Milwaukee. We just went right from 40 and 50 degree days straight to a heat index of 100....)
Anyway, on to the business at hand. This post's title is not merely meant to be a nod to a great song by a great band - side note: if you like rock music you should absolutely go buy the Foo Fighters' new album "Wasting Light". You won't be disappointed - this is also a call to help me finish off a couple of 2010 base sets! For a while now I've had to see the last remnants of my want list sitting there, mocking me, everytime I open that page. So let's put 2010 Topps and Topps Chrome to rest, shall we? If anyone can come up with the following cards I'm sure I can find something to trade that you'll like:
Topps: #417-Dallas Braden, #488-Delwyn Young, #568-Jarrod Saltalamacchia, #US-72- Milton Bradley
Topps Chrome: #194-Cesar Valdez, #205-Ian Desmond, #211-Sergio Santos, #219-Drew Stubbs, #220-Wade Davis
Also, I'd love to set up a trade for some 2011 Topps Heritage. My needs list was recently added to my "Help Me Complete a Set" page and I have a good number of doubles, so if you're looking to finish your set hit me up!
Previous Trivia Question:
What was Jerry Dior's big contribution to Major League Baseball?
Answer: He is the creator of the MLB logo we all know and love: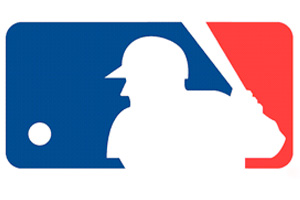 It was once rumored that Harmon Killibrew served as the model for the logo, but Dior says that is completely not true, claiming the logo sprung from a composite of several photos of players. (And really, couldn't that logo look like virtually any player? Hell, you can visualize the batter as being right OR left-handed!)
Today's Trivia Question:
What city hosted the hottest game ever played in recorded history, which happened just last season?