My LCS recently brought in a whole bunch of old, unusual boxes of cards from the mid 80s-early 90s era. Among the pile of boxes of wax packs were several of a mini card set called Topps League Leaders from 1988, 1989, and 1990. Somehow I had never heard of these before, and I always wonder what stores sold these sets back in the day? I was ALWAYS on the lookout for baseball cards at any store my mom went to, but I never once saw these cards, or the old Topps Big sets, or any of that other oddball stuff...
Anyway, the boxes were selling for just $5, so I decided to pick up the box of 1990 and crack it open just for kicks. (Well, I also did it because I love the 1990 Topps set)
The 1990 League Leaders complete set is 88 cards. That's an odd enough number for a set, but what is even more weird is that I saw from the other boxes that from 1988-1990 the Topps League Leaders set went from 66 cards, to 77, and then to 88. My only guess as to why they did this is that somebody at Topps really liked Spinal Tap...
As one would expect, the design is reminiscent of the 1990 Topps base set:
The cards are maybe half the size of a normal baseball card, definitely larger than the minis you get today in sets like T206.
The backs highlight which categories they were leaders in the previous year: (Ignore the website ad on this picture, I just didn't feel like scanning in the cards myself and did a google search instead)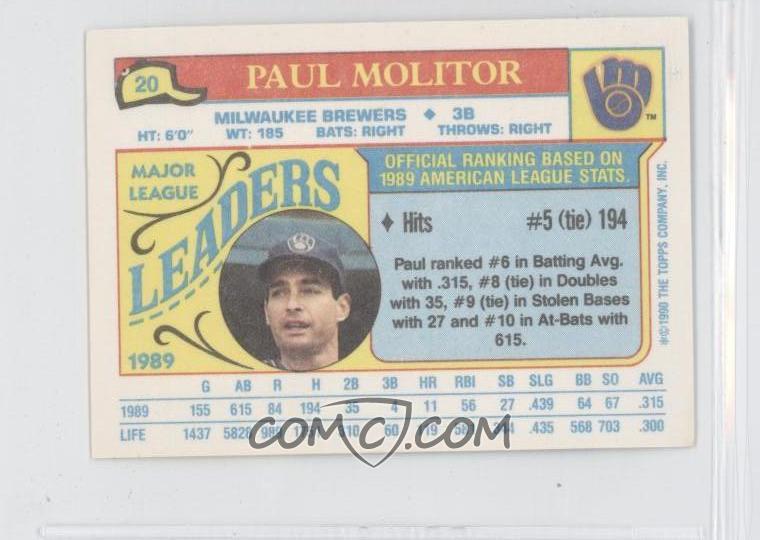 Molitor was one of 3 Brewers in the set - the others being Robin Yount and a name I haven't heard in quite a while - Chris Bosio~! While there are certainly a fair number of players you might not remember, the set also has quite a few stars and HOFers, including (among others) Ryne Sandberg, Roger Clemens, Tony Gwynn, Roberto Alomar, Nolan Ryan, Mark McGwire, Greg Maddux, Rickey Henderson and Barry Bonds.
Aside from the fact that many of the cards are cut really off-center, this was a fun little blast from the past. And I managed to pull together 2 full sets from the box~!