One thing has become abundantly clear just a couple months into 2011 - I REALLY miss Upper Deck. Or at least I miss what they represented, that being the last competition to the Topps baseball monopoly. Don't get me wrong, I've enjoyed Topps Series 1, but since I pulled a full base set out of my first day jumbo box it left me with little incentive to buy additional packs (not that I haven't bought a couple anyway). With no other baseball card companies out there I've had just one big, boring lull to sit through until the next Topps offering comes out......
The good news is, at least the next Topps set is one I do indeed want to collect, and not just because I have no other options!
Let's start by looking at the design for the 500 card base set, a callback to 1962 Topps: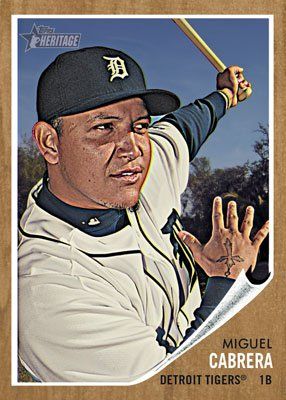 Love it, love it, love it! Frankly I can't believe they didn't use this design for a Heritage set already, it would have been one of my first choices. In my opinion there aren't many card designs from way back when that still hold up when making an honest comparison to modern designs, but this is one of them.
I do however have a bone to pick with Topps about the base set - there are 75 Short Prints. As a set builder I've always been torn on the idea of SPs. I understand that it encourages people to buy more packs and Topps is after all a business, but look at it this way - I couldn't find an official listing of how rare the SPs will be for Heritage, but let's assume that they are 1 in every 3 packs like they were for Topps Magic Football. That means that even if you bought 2 full boxes (24 packs, 9 cards per pack) with pefect collation, you'll still be missing about 12% of the base set, or about 1 out of every 8 cards. To me that seems wrong. I think maybe 40 SPs would be a more reasonable number. I would be interested to hear other people's take on this subject.
As far as the hits, you gotta love that all of the autographs in this set are on-card autos, no stickers!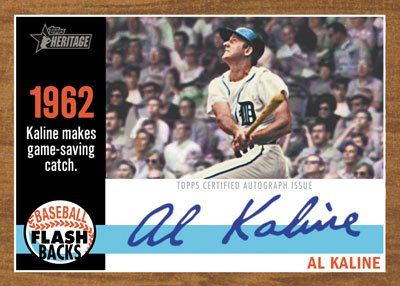 The one negative is that there are an awful lot of players on the list of autos for this set that I've never even heard of. I guess that is to be expected, particularly in a throwback set, but I've always been of the mind that I would rather Topps put out fewer autographed cards in total, but make the ones they do produce all really mean something.
Next up, the Clubhouse Collection relics: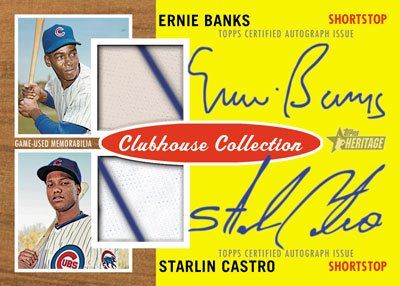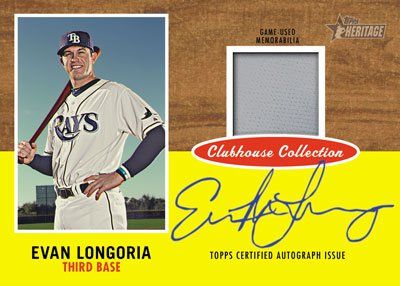 As far as what you are getting, these are great! But from a looks standpoint, my immediate response was "yuck". Memo to all card companies - if your card design involves large portions of the card being plastered in banana yellow, you are going the wrong way! I thought we learned this lesson decisively 20 years ago....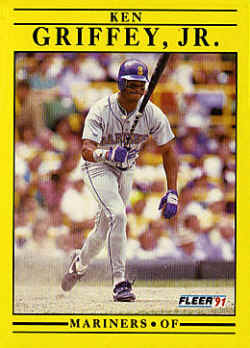 I think we all knew this picture was coming.




Finally, the '62 Mint Cards:
I think I'll have to reserve final judgement on how good these are until I actually get to see one in person, but I'm definitely intrigued by the idea. Each player has 5 variations, and what I like most is that the variations aren't just the coin involved, but also the info about the player:
1962 Silver Half Dollar - Hall Of Fame Induction
1962 Quarter - Baseball Highlight
1962 Dime - Personal History
1962 Nickle - Rookie Debut
1962 Penny - Happy Birthday
Depending on exactly what info they have on the card backs you could end up with a nice little synopsis of your favorite player's career all contained within this set of 5 cards, which sounds like a really fun collectible to me. I'm already considering going after the Warren Spahn cards! :)